Quality People, Quality Projects
West Central Ohio Division Associated General Contractors
The West Central Ohio Division of AGC is a commercial trade association governed and directed by its contractor members. The membership is comprised of the top general and specialty contractors in fifteen counties in the Dayton/Lima area.
The most prestigious and well-respected construction firms in the Miami Valley belong to the AGC West Central Ohio Division and benefit from AGC's professional services.
Unfortunately, with the cancellation of the 2020 Ohio State Fair, plans for Ohio Construction Days at the fairgrounds have also been postponed.  The event will resume in July 2021. AGC staff, Apprenticeship Training Programs, and Unions will plan to showcase the...
As everyone is challenged with the fluid and dangerous health emergency known as the Coronavirus Disease 2019, the AGC, West Central Ohio Division pledges support to its Members and fellow Industry associates in dealing with COVID-19.  Our primary concern is the...
read more
For the safety of all, the AGC, AIA, CSI Dayton Joint Meeting with Ken Simonson was postponed.  COVID-19 travel and gathering restrictions led to the decision to reschedule this event at a later time.  Watch for updates for a new date and time. The AGC, West Central...
read more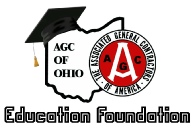 The AGC of Ohio Education Foundation is accepting 2020-2021 scholarship applications through Friday, February 7, 2020.  Approximately 25 scholarships are offered, typically equaling $1,000 each. The general requirements are:  US Citizen; 2.5 GPA (out of a 4.0 scale);...
read more
September 16-20, 2019 is a time to celebrate as it's Construction Appreciation Week.  The AGC, West Central Ohio Division is proud of its association with the many men and women in the industry who Build America.
read more