Quality People, Quality Projects
West Central Ohio Division Associated General Contractors
The West Central Ohio Division of AGC is a commercial trade association governed and directed by its contractor members. The membership is comprised of the top general and specialty contractors in fifteen counties in the Dayton/Lima area.
The most prestigious and well-respected construction firms in the Miami Valley belong to the AGC West Central Ohio Division and benefit from AGC's professional services.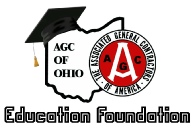 A Committee of Associated General Contractors of Ohio representatives will meet on Thursday, May 12, 10 AM - Noon to make final decisions on 2022-2023 scholarship recipients.  Each year the AGC of Ohio Education Foundation issues 20+ $1,000 scholarships to area...
Zachary Reese was awarded the 2021-22 AGC sponsored by the Construction Builders Association. He was one of 27 successful applicants who were awarded 2021-22 scholarships from the AGC of Ohio Education Foundation. Zachary will be a Junior at the University of Dayton...
read more
 I Build America Announces Third Annual Construction Appreciation Week, September 14-18, 2020 To celebrate the construction industry's importance to infrastructure and the economy, I Build America, an organization dedicated to promoting the value of the construction...
read more
Joe Travis, Carpenters & Millwrights Apprenticeship Program Coordinator recently expressed interest in making sure the Professional Craftsman/Trades Worker continues to be promoted as a desirable life-long career.  He further noted the Skilled Construction Trades...
read more
Blake Brower has been selected to receive the AGC, West Central Ohio Division's 2020-21 scholarship.  This scholarship is one of twenty five $1,000 awards being issued this year through the AGC of Ohio Education Foundation. Following his graduation from Beavercreek...
read more