Quality People, Quality Projects
West Central Ohio Division Associated General Contractors
The West Central Ohio Division of AGC is a commercial trade association governed and directed by its contractor members. The membership is comprised of the top general and specialty contractors in fifteen counties in the Dayton/Lima area.
The most prestigious and well-respected construction firms in the Miami Valley belong to the AGC West Central Ohio Division and benefit from AGC's professional services.
The AGC, West Central Ohio Division will host CQM for Contractors training with six planned sessions in 2020, on an every other month cycle:  February 11-12; April 14-15; June 16-17; August 18-19; October 20-21; and December 8-9, 2020. CQM classes are offered with...
The AGC, West Central Ohio Division, with AIA Dayton and CSI Dayton/Miami Valley, will host its Annual Joint Meeting on Tuesday, March 17, 2020, 11:30 AM - 1:00 PM.  It will be held at Montgomery County's Business Solutions Center located at 1435 Cincinnati Street,...
read more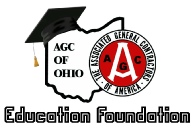 The AGC of Ohio Education Foundation is accepting 2020-2021 scholarship applications through Friday, February 7, 2020.  Approximately 25 scholarships are offered, typically equaling $1,000 each. The general requirements are:  US Citizen; 2.5 GPA (out of a 4.0 scale);...
read more
September 16-20, 2019 is a time to celebrate as it's Construction Appreciation Week.  The AGC, West Central Ohio Division is proud of its association with the many men and women in the industry who Build America.
read more
The comment period to provide feedback on the proposed Industry Recognized Apprenticeship Programs (IRAPs) will expire Monday, August 26, 2019 at Midnight. Please consider sharing your thoughts to protect the exclusion of established apprenticeship training programs....
read more