Quality People, Quality Projects
West Central Ohio Division Associated General Contractors
The West Central Ohio Division of AGC is a commercial trade association governed and directed by its contractor members. The membership is comprised of the top general and specialty contractors in fifteen counties in the Dayton/Lima area.
The most prestigious and well-respected construction firms in the Miami Valley belong to the AGC West Central Ohio Division and benefit from AGC's professional services.
Provided things settle and travel/gathering restrictions are lifted, the AGC, West Central Ohio Division plans to hold CQM for Contractors training on an every other month cycle starting in June.  The scheduled dates are June 16-17; August 18-19; October 20-21; and...
As the Construction Industry in Ohio was identified as an Essential Business in Ohio, local Contractors have been working to complete projects under the COVID-19 restrictions and guidelines established to ensure a safe workplace for all. Consideration is given to...
read more
As everyone is challenged with the fluid and dangerous health emergency known as the Coronavirus Disease 2019, the AGC, West Central Ohio Division pledges support to its Members and fellow Industry associates in dealing with COVID-19.  Our primary concern is the...
read more
For the safety of all, the AGC, AIA, CSI Dayton Joint Meeting with Ken Simonson was postponed.  COVID-19 travel and gathering restrictions led to the decision to reschedule this event at a later time.  Watch for updates for a new date and time. The AGC, West Central...
read more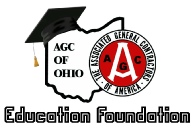 The AGC of Ohio Education Foundation is accepting 2020-2021 scholarship applications through Friday, February 7, 2020.  Approximately 25 scholarships are offered, typically equaling $1,000 each. The general requirements are:  US Citizen; 2.5 GPA (out of a 4.0 scale);...
read more